Harmon Brothers Trailways is committed to providing a safe and healthy environment for customers. Please review our interior cleaning and disinfecting procedures overview.
Third Party UMA AssurClean Acknowledgment
Harmon Brothers Trailways acknowledges the United Motorcoach Association's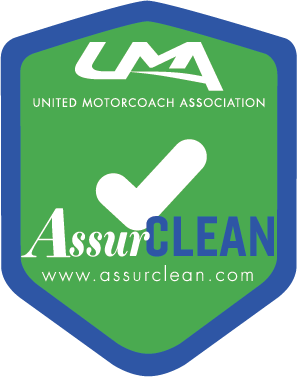 AssurClean guidance for COVID-19 mitigation.
• Designated someone to be responsible for responding to SARS-CoV-2 (COVID-19) concerns and all employees know who the designee is and how to contact them.
• Provided all employees with information about SARS-CoV-2 (COVID-19), how it spreads, and risk of exposure, training on proper hand washing practices and other routine infection control precautions. access to soap, clean running water, and drying materials or alcohol-based hand sanitizers containing at least 60% alcohol at their worksite.
• Conducted worksite assessments to identify SARS-CoV-2 (COVID-19) prevention strategies.
• When practical, provide products as recommended by the Centers for Disease Control, Environmental Protection Agency, and other applicable government agencies so that surfaces commonly touched by passengers and staff can be cleaned periodically.
• Used, and continues to use, disinfectant products that meet Environmental Protection Agency's List N: Disinfectants for Use Against SARS-CoV-2 (COVID-19) and provide employees training on manufacturer's directions.
• Coordinated with, and will continue to coordinate with, local and/or state public health officials to establish ongoing communications to facilitate access to relevant information.
• Monitored, and continues to monitor, federal regulations and public health agency guidelines as appropriate.
Enhanced Cleaning & Disinfecting Procedures
Prior to every departure, a deep clean is performed on the interior of each coach. Dust and debris are removed by vacuuming and supplemental sweeping. Once the cabin is free of dust and debris, our teams wipe down critical high traffic touch areas such as, but not limited to, handrails, overhead bin doors and handles, overhead reading light buttons and air vents, windows, passenger seats, seat belts, arm rests, tray tables, power outlets and driver's area. Floors are then cleaned with a warm water and disinfectant solution. The final step in the cleaning process is fogging with an EPA registered disinfectant.
Lavatory
The lavatory is cleaned and disinfected during every coach cleaning. Lavatory holding tank contents are disposed in an EPA certified waste treatment site. Every surface in the lavatory such as door handles, handrails, toilet seat and surrounding areas are wiped down with disposable one time use wipes and/or
Onboard Hand Sanitation
Hand sanitizer dispensers have previously only been found in the lavatory. We have proactively added additional dispensers at the front of the coach for immediate hand sanitation when boarding the coach. Hand sanitizers onboard are professional grade and have no less than 60% active ingredients of ethanol and/or ethyl alcohol in accordance with CDC recommendations.
In Route Cleaning
Our driver's primary responsibility is the safety of passengers onboard. Each bus is equipped with a cleaning kit used for standard cleaning and disinfecting. The driver will wipe down critical high traffic touch points such as handrails with disinfectant as needed. Atomized foggers are now on board every coach.
OUR COACHES ARE EQUIPPED WITH VIRUCIDAL-GERMICIDAL ULTRA VIOLET RADIATION DISINFECTING SYSTEM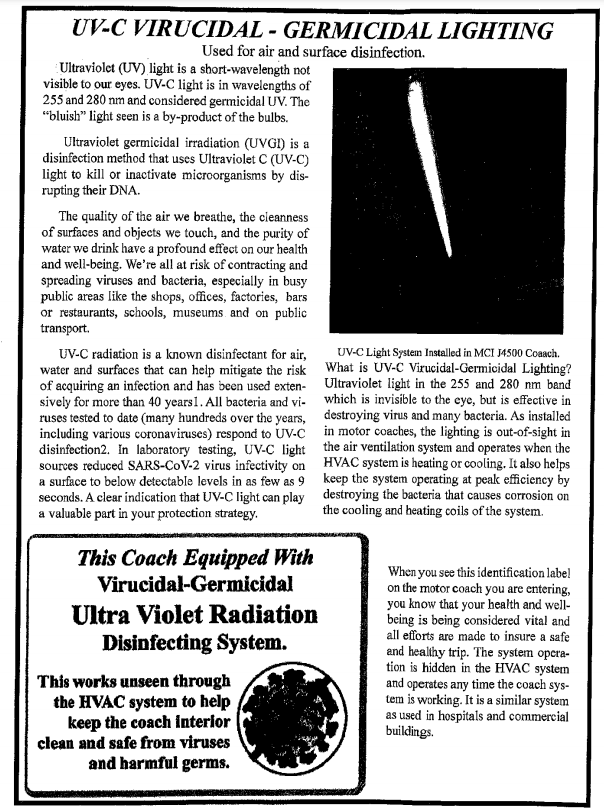 Our Office
5094 Westbrook Road
Union City, GA 30291
Contact Us
770-969-0180
877-230-4788
888-487-3251
Office Hours
Mon-Fri: 9AM-5PM
Sat-Sun: CLOSED
An Official Partner of Trailways Charters | U.S. Department of Transportation MC # 177778 GPSC Certificate # 7245